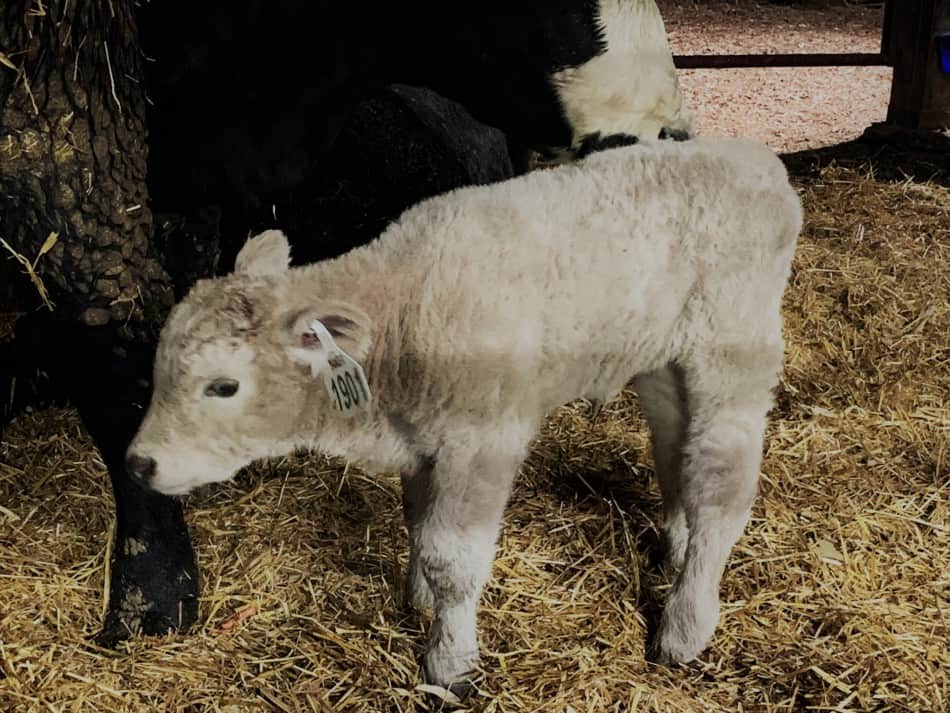 Herds of cows, all with calves that were born this year. That's a lot of babies and a lot of cows to get bred each year! How do farmers and ranchers get their cows bred?
Most commercial beef cattle are bred by bulls, specialty cattle, like show steers, and most dairy cattle are bred by A.I. (artificial insemination) rather than using a bull.
Getting Started With Beef Cattle: Buying Your Starter Herd will go over the steps to locating, looking over and buying your first herd of cattle!
Most cows are bred by a bull
The most common way for cattle to be bred is to use a bull. The reason a bull is so popular is because the bull can bred any cow on any day, he's always watching for a cow to come into heat so you don't have to!
Beef cattle, especially herds with more head, will be using bulls. For dairy cattle, bulls are less common.
If you have up to 25 cows and heifers, one mature bull will be fine. If you have a young bull, less than 2 years old, then go with more like 15-18 cows per bull for this year and next year he can be used with more cows.
Having more cows (and heifers) than the bull can reasonably breed in the breeding season will reduce conception rates (less calves) or result in a longer calving window (calves born late in the year, so they are smaller going into winter).
Mature bulls can breed more cows per breeding season
One mature bull (over 2 years old) can be used for a small herd of cattle, but once the number of cows to be bred gets over 30 or so a second bull is needed or the calving season will be extended.
Having a longer calving season is not a problem, as long as you are happy with the time of year that the calves will be born, since the longer the calving season the more age difference will be possible in the calves.
Younger bulls need a smaller breeding group the first year
If the bull is under 2 years old, generally the number of cows he can breed per breeding season is equal to his age in months. For example, if the bull is 15 months old, he can be reasonably expected to breed 15 cows.
This requires that he is well grown for his age and is in top form. If he is not in great shape and full of vigor, then he won't be able to perform. (But, if he is not the best looking bull you can afford, what are you doing using him?)
Smaller daily paddocks mean less bulls are needed to breed the cows
If the herd is kept in a smaller pasture that is rotated frequently, the bull can breed more cows per breeding season, since the cows are closer together and it is less walking around and checking to see which ones are in heat for the day.
In this small daily area pasture breeding scenario, the bull can breed closer to 50 cows per breeding season, with 60 cows being the upper limit (per 70 day breeding season), while keeping pregnancy rates high.
The more land the cattle are spread out over, the more bulls are needed for the cows.
If you are looking for a group that really knows their stuff, consider looking into Pharo Cattle. At the very least, read over their site and listen to some videos of Kit Pharo explaining why bull selection is key. It's time well spent.
A.I. (artificial insemination) can be used to breed cows
A.I. (artificial insemination) can be used to breed cows and heifers. A.I. is much more popular with dairy cattle and specialty beef cattle, like show steers, but less common with commercial beef producers.
Since dairy cattle are with farmers every day, they are easily bred with A.I. Using bulls for dairy cattle is not very common, but if you can find a bull you like is an easier option, since the bull will pay attention for you.
Since artificial insemination has it's pros and cons, I wrote Is A.I. Right For You Can Your Herd? to help you figure out if artificially inseminating your cattle is a workable solution for you and your situation.
Bulls are more commonly used to breed cows than A.I.
Most farmers and ranchers raising beef cattle for beef production are using a bull, not A.I.
This is just a matter of management, meaning actually arranging for the administration of the hormones used in the A.I. protocol to be given with the cattle and then again working the cattle for the insemination.
To A.I. cattle all on one day, the brood cows must be synchronized with hormones. All of this work is doable, it's just more coordination than most folks with larger herds are willing to do, especially when they have a few bulls, already.
Artificial Insemination, Beef Cattle Research Council has a great explanation of insemination options and a chart comparing the cost of A.I. to using a bull.
Conception and pregnancy are controlled by the cow
Whether or not the cow (or heifer) will conceive is controlled by the cow! You can do your best management wise to make sure she is in top form, so a pregnancy is more likely.
The bottom line is, pregnancy is controlled by her, not you. You can make sure she has every reason to settle (establish a pregnancy), since reproduction is the natural thing for a cow to do, but only she decides if it happens or not.
Sadly, there are some very negative sources of information you can find about conception and pregnancy in cattle, both regarding insemination and natural breeding.
Usually the idea being promoted is that the cows are being "forced" to be pregnant. This is false, the cow's body dictates what works and what doesn't.
If the cow or heifer is not ready to conceive a calf, it won't happen. You may be thinking, well you just said farmers could manipulate the cow with hormones.
True, however, that is only a potential start of pregnancy, not a live calf. What those hormones can not do is maintain the pregnancy, only the cow or heifer can make the myriad of daily adjustments it takes to grow and nourish a calf.
If her body says no to pregnancy, it doesn't work and no one can change that but the cow.
A.I. can be beneficial to the small cattle herd and beginners
One of the best things about using A.I. in your herd is it allows you to select specific genetics for your cows, maybe even for that particular cow, that will help you move your herd genetics in the direction you want them to go.
Sometimes you want or need genetics that you do not have access to. When this happens, A.I. gives you the option to use bulls that would otherwise be unavailable to you and your operation.
A.I. allows you to match the bull to the specific cow
Where A.I. really shines is the ability to specifically match the particular cow to a specific bull, especially if your brood cows are a mixed group of shapes and sizes.
A second reason A.I. may work for you is that using A.I. will give you access to a bull that you would otherwise be unable to purchase.
For anyone with limited acreage, using A.I. gives you the ability to get your cows bred without having to support another big body, since the bull is likely to be the biggest framed animal you have out there.
Even if, compared to other bulls, he is on the short side, when compared to the cows, he's likely to be pretty substantial and another eater.
A.I. gets cows bred without you being around a bull
A final plus in the use of A.I. is that you do not worry about working around a bull, I'm referring to your safety. Not all bulls are mean, but they are all capable of it. Not having a bull around equals no bull to manage.
Resources:
BeefCattleExtension. org, How many cows can a bull service in a normal breeding season? I used 30:1 for a mature bull